If you're not

mlbish
, I'm wondering what made you want to see these! LOL!
This is just regular trim, taped at the top (to keep paint from getting on the wall, obviously) and at the bottom, against the carpet. When I tape the carpet, I leave a little extra (about 1/16th of an inch) curling up toward the trim and then use my fingers to push it down where the carpet begins to curve downward.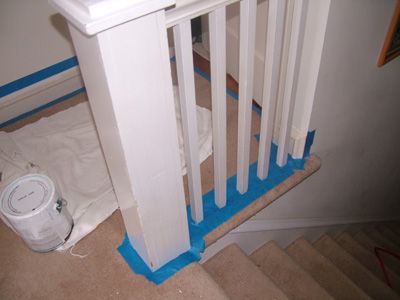 This "special" taping is a bit more of a bitch-kitty. It's the same idea but takes smaller pieces of tape and more patience. I use that around the door trim and stuff like this railing. It take a bit of time, all together (about 1/2 hour or so) but it saves a lot of time and headaches in the long run.
Good luck! :)